Ambulette Transport
Ideal for individuals who are immobile or must travel in a supine position. These vehicles are equipped with Stryker MX-Pro stretchers and all the necessary boarding equipment and safety mechanisms to ensure smooth transport while preserving the health and dignity of the passenger.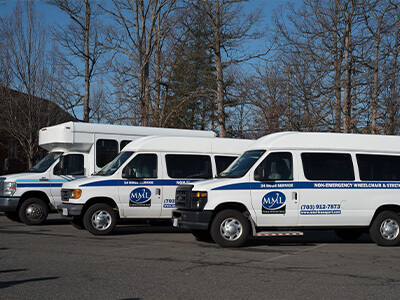 Wheelchair Transport
Our specially designed fleet is equipped with side-mounted Braum hydraulic lifts with Sure-Loc wheelchair securement systems. Our vans can comfortably accommodate any type of wheelchair or power scooter.
Bariatric Transport
To accommodate larger patients over 250 pounds who may have trouble travelling in standard vehicles.
Stryker Stair Pro Chair
Provides breakthrough stairway mobility previously unavailable in any stair chair. This ergonomic chair enables operators to move passengers up or down stars without lifting, significantly reducing the risk of operator back injury.
We Provide Bed-to-Bed Service
Most services drop off patients at the curb. Our drivers help clients get into and out of their homes and climb or descend stairs. We do whatever is necessary to help our clients to and from our vehicles.
From private residential clients to high-volume facilities, MML Transportation conducts each and every transport with the same level of personal attention, professionalism, and respect. Our drivers are available 24 hours a day, 7 days a week By Appointment.